Command deftly delivers on Keller Williams' commitment to technology
By Craig C. Rowe, Inman News
Carefully designed with agents and marketing in mind, the platform offers agents everything from online publishing and paid Facebook campaigns to team accountability tools and nationwide referral networks. It also helps manage leads.
Command by Keller Williams is software for managing marketing, leads, and supporting agent productivity.
Platforms: Browser; mobile app
Ideal For: All Keller Williams agents and teams
Top selling points
Superb user interface
Sales Pipeline module
Built-in omni-channel marketing suite
Third-party software integrations
Exclusive Nextdoor integrations
Top Concerns
Its feature scope could overwhelm some agents, and it may take time for those new to KW to adopt over established systems that have demonstrated success for them. The company has compensated for that with many ongoing opportunities for training and support.
What you should know
Perhaps a reason choosing a customer relationship management platform (CRM) is so challenging these days is because true CRMs don't really exist anymore. Well, there are fewer of them, anyway.
The entire sector of software has evolved so far so quickly that agents are burdened by the embarrassment of technological riches now available to them.The unique loan program (and creative marketing) that drives home salesShine a brand new light on your listings READ MORE
Keller Williams, however, has all but eliminated the choice debate for its agents by introducing Command, which is more agent operating system than CRM, and a deeply featured, exceptionally well-designed product.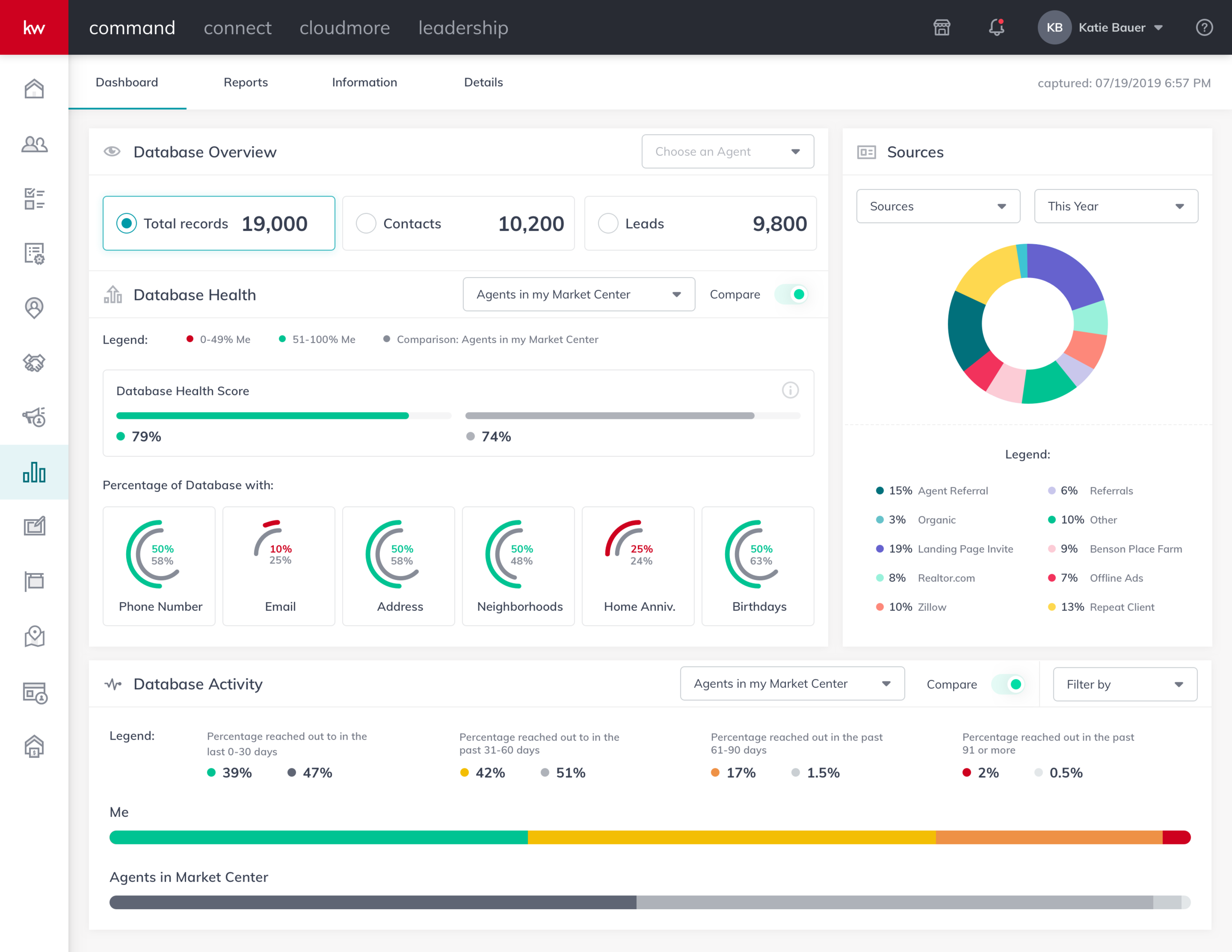 While Command is an app-killer, it still allows users to bi-directionally sync with a number of third-party systems they might already be using, such as MailChimp, Google, SalesForce, AgileCRM, BoomTown and many others.
However, Command's sophistication in email marketing, social media management, lead qualification, task management and general business oversight would allow the broadest segment of users to drop the majority of its monthly software subscriptions, something I would strongly encourage if adopting this software.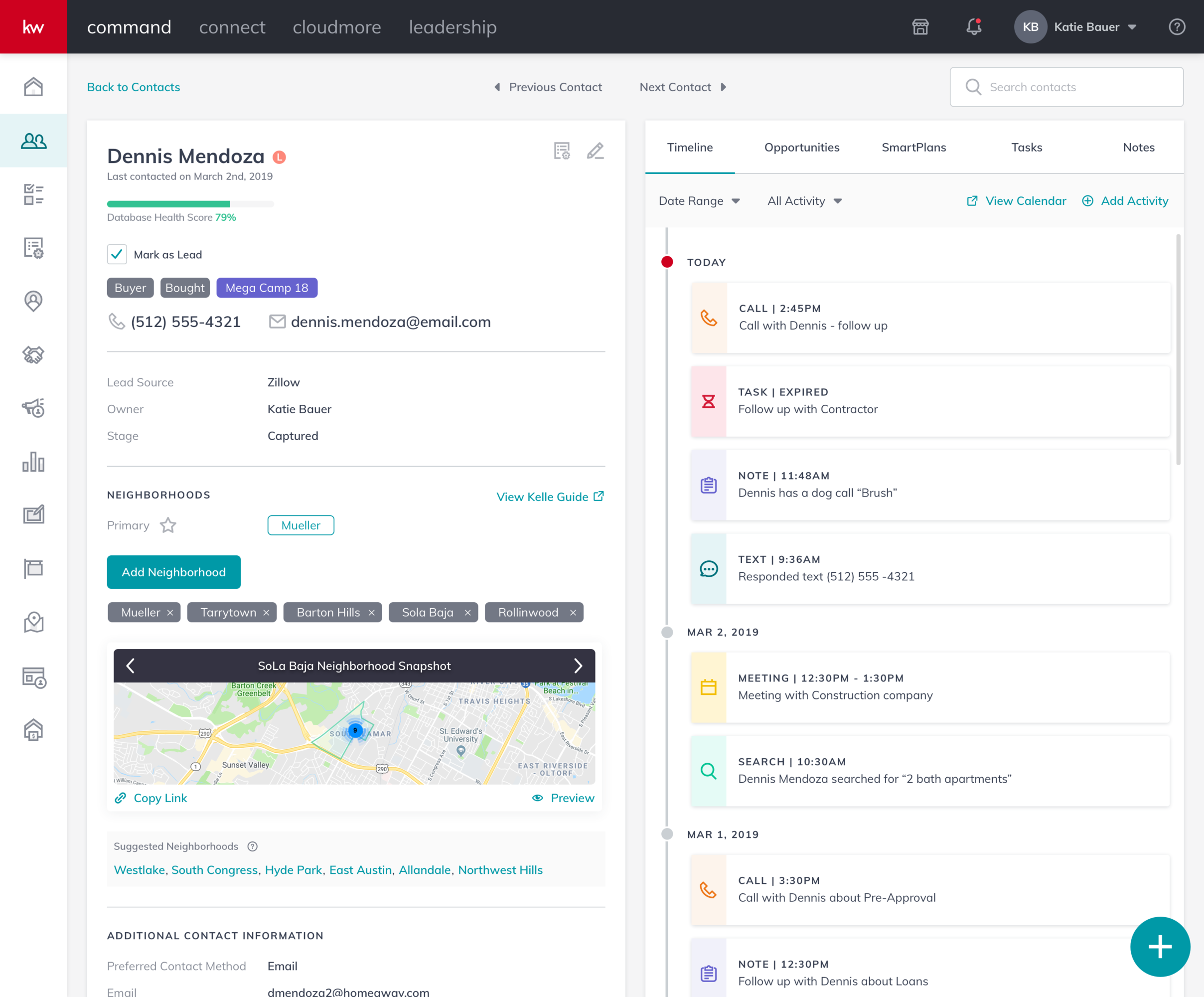 Keller Williams smartly integrated a number of opportunities to quickly access help and dynamic support features throughout Command to help ensure adoption and that its agents get the most benefit from what's offered.
Kelle Guides, or help wizards, are clickable at multiple interface points, and the AI assistant already has 1,000 active intents (learned responses) to help users navigate the maze of capabilities.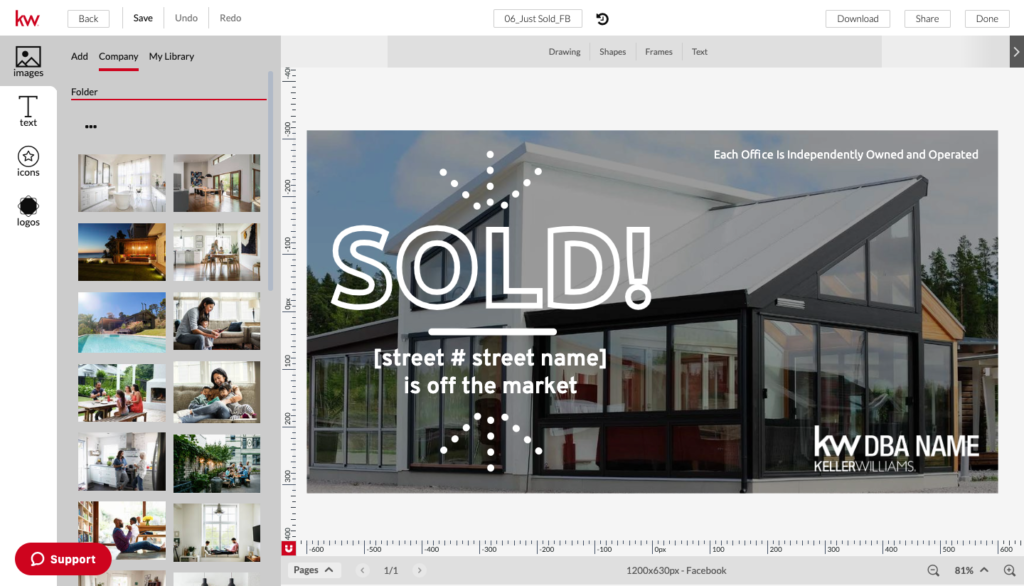 I mention the training and support opportunities because systems of this magnitude are learned "along the way," meaning that users tend to leverage features over time as they need them, as opposed to trying to pick up the full payload in a few days training.
And with Command, there's a lot to digest; highlights include:
Customizable contact fields, field types, tags and views
Exclusive Nextdoor integration for quick identification of a contact's community and market context
Data available from 95 percent of all MLSs in the country
Nationwide Keller Williams referral network module
"Hootsuite-like" rich, omni-channel social media management
Facebook paid advertising with goal-setting, automatic performance-based budget allocation; auto-population of MLS listing data
Minimal-click direct mail campaigns: design to print
Designs "Canva-like" graphic and marketing collateral publishing engine
Landing page publishing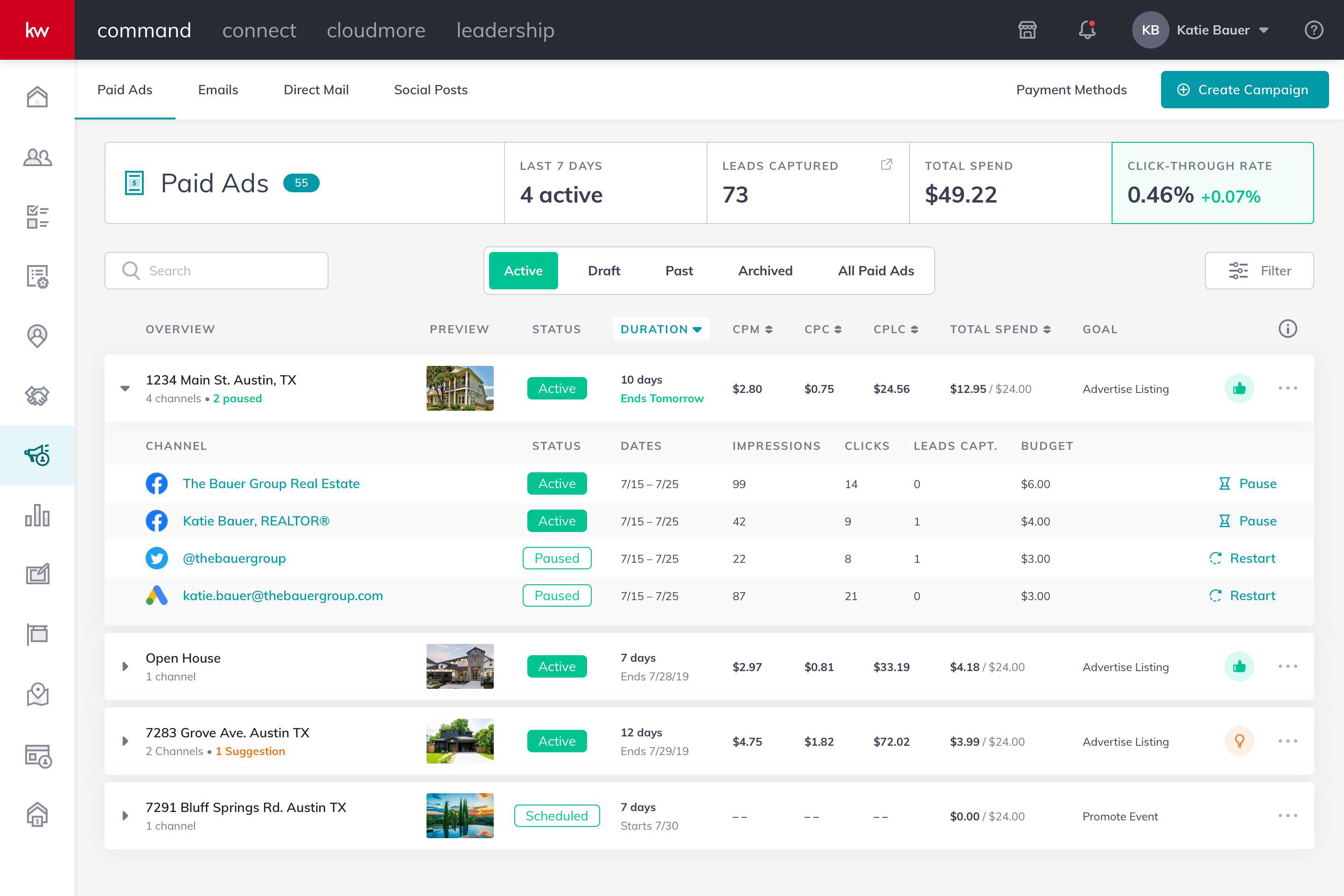 While Command makes marketing easy, it's not all about the soft side of business. The software includes a quasi-self-coaching feature in its sales pipeline module that uses an agent's performance record to offer a "probable vs. potential" income estimator for each deal.
For example, if your listings tend to stay on the market longer, or your follow-upisn't very consistent, the "probable vs. potential" numbers might be quite sobering.
Command also offers users the chance to see how their work habits-to-income ratios match up against other agents in the company around the country.
The sales pipeline feature is a graphically slick, highly dynamic asset of Command that would likely absorb the bulk of a user's time.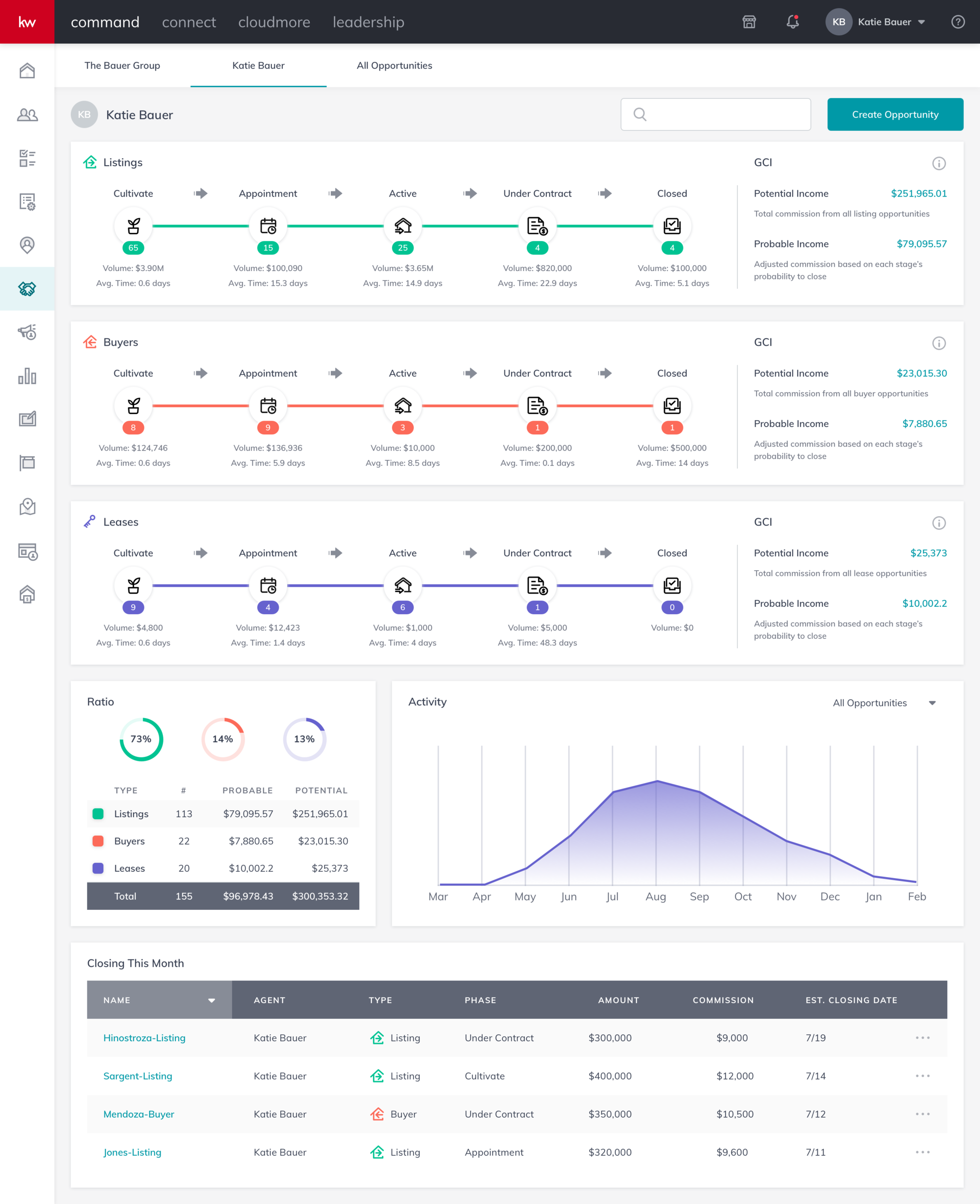 It breaks down a user's buyer, listing and leasing business activity into a left-to-right-categorized scale that depicts the sales volume in each of the following stages of business: Cultivate, Appointments, Activity, Under Contract, Close.
Teams can also look into each member's performance, a smart way to hold each other accountable.
There's a distinct advantage to centralizing a software build in-house, namely the access granted to your customer base.
Command's intent is to make everything easier for its agents, who, like every other brand's agents, are too burdened by a stack of disparate, non-communicative marketing and lead management tools and other forms of web-based shiny objects for business.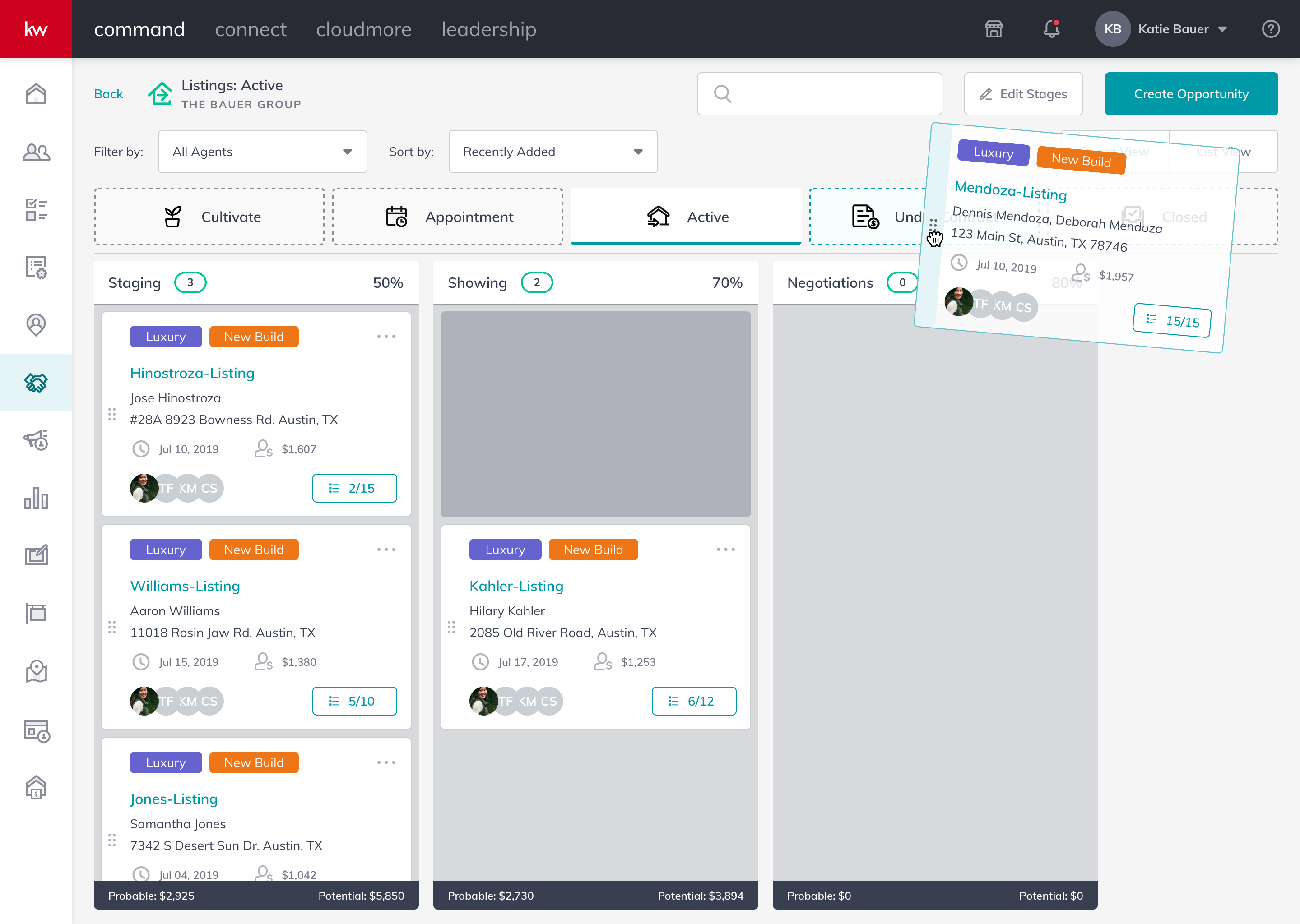 Whether it's multiple CRMs, databases in different email campaign tools or the slow turnaround of printed postcards, Keller Williams never let its finger off the pulse of its producers while coding this software.
Look, Command is a huge every-day login platform that will take agents longer to adopt than those who demonstrated it to me are probably willing to admit. It could use some feature streamlining, as well, which I think will happen in future updates.
In their defense, it's very hard to get agents to commit to a software product, a fact that was probably top-of-mind when deciding what type of features to include. The more times developers say "yes" to a request, the more likely the person asking will use it. Keller Williams said "yes" a lot.
Command is only going to evolve from here, and aspects of it will blend with the company's consumer-facing app to be launched later this year.
In summary, the depth of Command goes beyond the reasonable word count of this column, and it also goes to great lengths to silence those cynical toward Keller's proclamations of his brand's unapologetic commitment to technology. Here are the results of that commitment.
It's very clear the company's Labs department was allowed to flex its development muscle, survey agents and strike the necessary partnerships to build this kind of solution.
KW Command is impressive, a powerful recruiting carrot, and it proves without a doubt that the industry's best route forward will be mapped from within.